The Window Cleaner that also Cleans the Air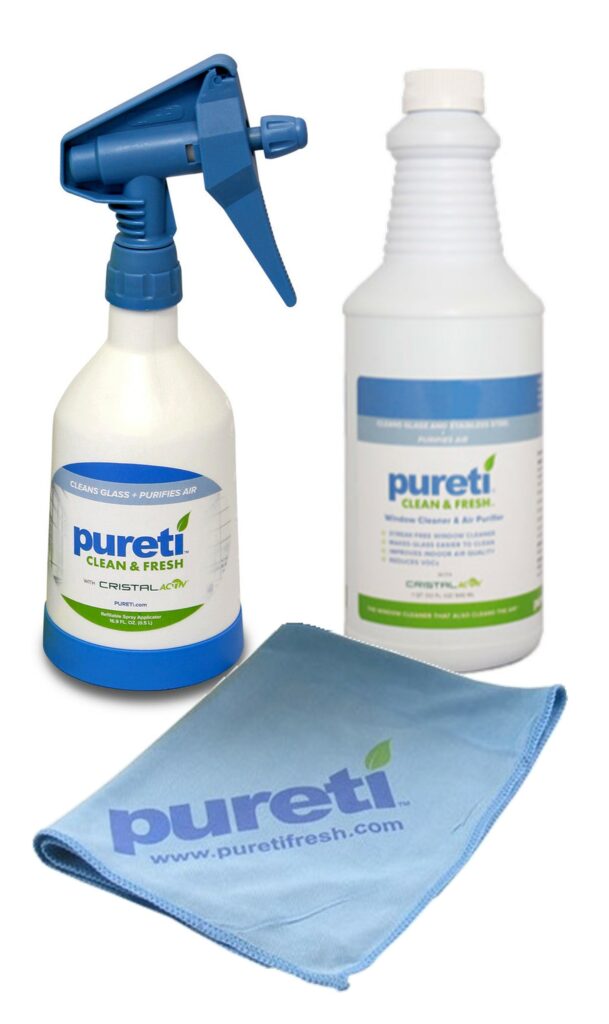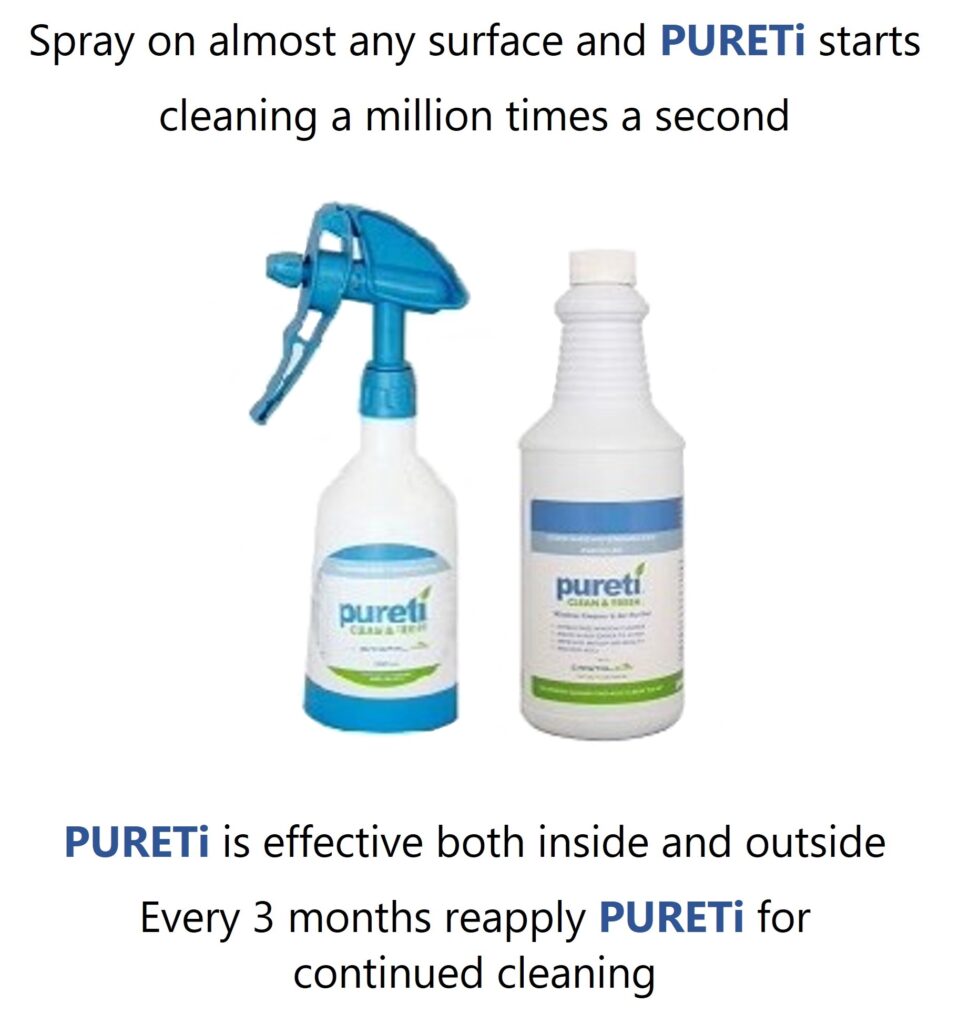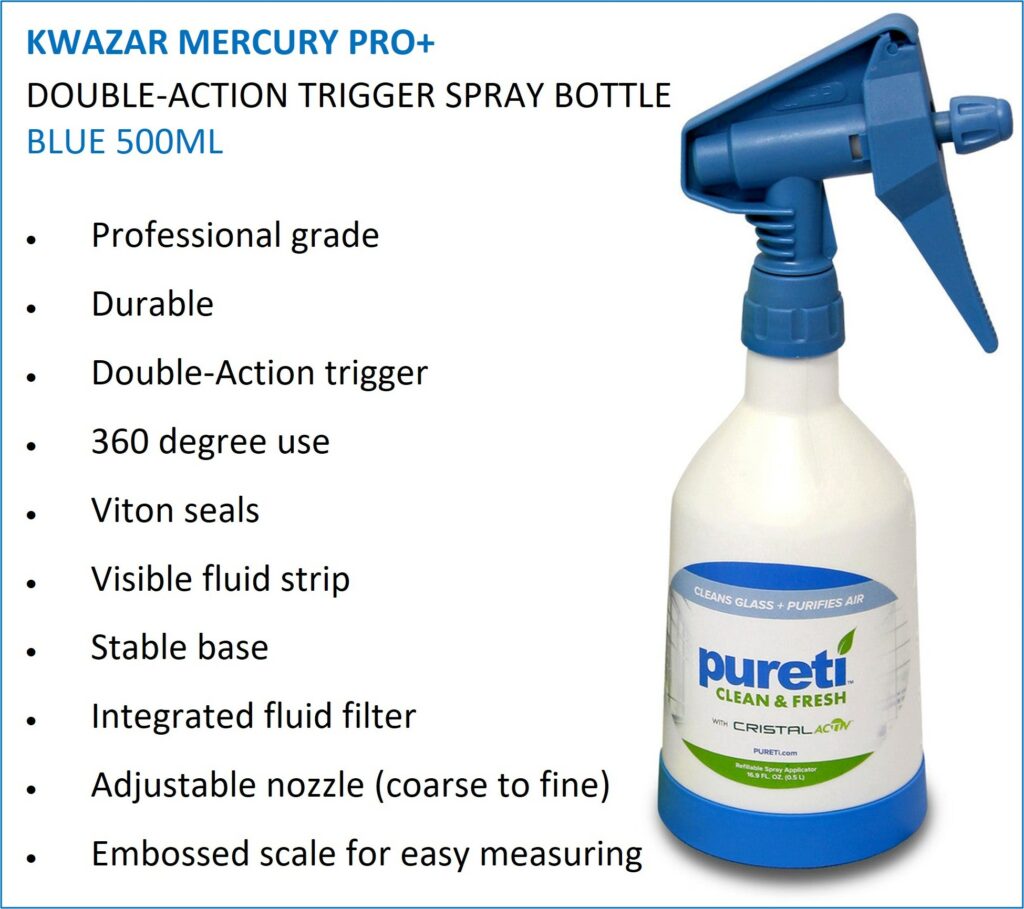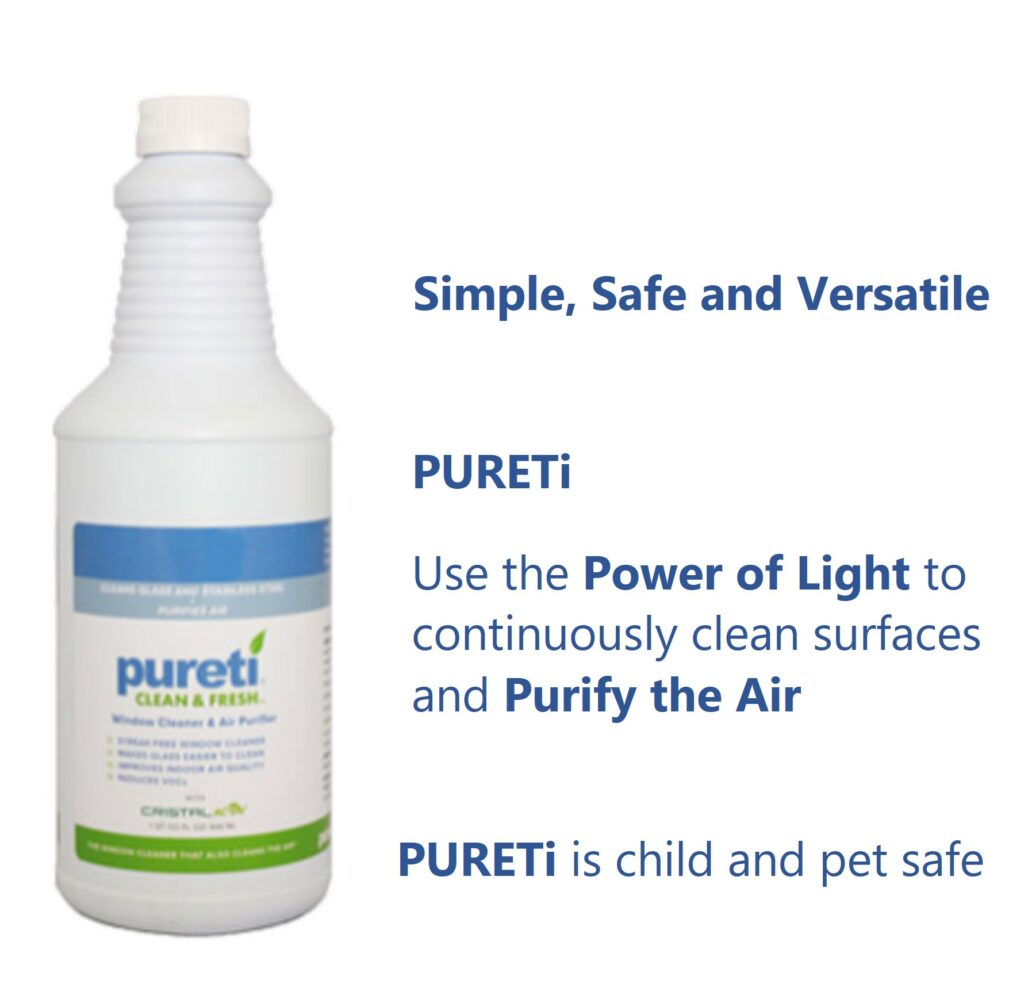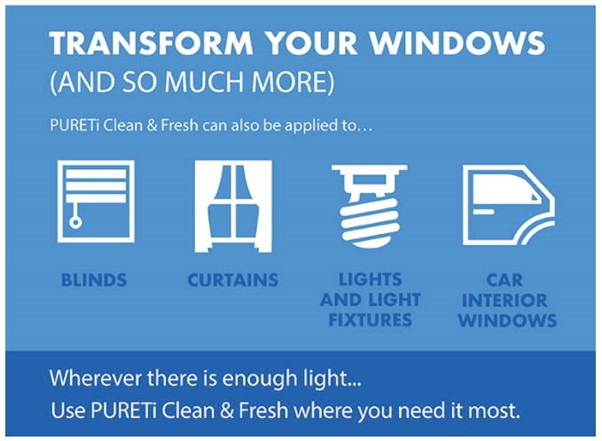 Pureti Clean & Fresh is a sustainable health-enhancing innovation: it uses the power of light to clean. It improves indoor air quality by oxidizing harmful organic particles, including VOCs, making the air cleaner and safer for your home, car or office.  Your family, employees and customers all benefit from this award-winning innovation. 
There is no comparable product on the market: Common household cleaners and solvents contain materials such as acids, VOCs, lye, bleach and other toxic chemicals that pollute the surface and air.  Pureti cleans and destroys VOCs, smoke tobacco odours, pet odours, bacteria and virus on contact.
Safe and Effective: Pureti uses a naturally occurring mineral and the power of light to continuously clean and purify for up to 3 months with no acids and no health risks. Other cleaning products only clean at the moment of application and then lose all effectiveness. Pureti keeps the surface cleaner longer, makes it easier to keep clean. Pureti is registered safe for surface contact with the USA NSF.
Long lasting: Applied to any surface that gets UVA light, Pureti continuously reduces grime, organic compounds, bacteria, viruses, mould and fungus for all surfaces where applied. Applied once every 3 months, not daily. Any hand marks easily wiped away.
Satisfaction Guarantee: There is no comparable product on the market, so if you are not 100% satisfied, simply take advantage of our full money-back guarantee. Made in the USA. Pureti is a NASA Dual Use Technology Partner. Pureti has been tested and verified at top independent laboratories.
Clean Fresh is a revolution in glass and stainless steel maintenance. PURETi Clean & Fresh keeps the surface cleaner longer, makes it easier to stay clean and destroys VOCs and harmful odour molecules in the air..
Buy Now – Contact us for larger orders
Easy to Use – Tips for Applying to Surfaces
Prep the surface by ensuring the surface is (a) clean of dust of particles that would prevent the solution with bonding on the surface, (b) not hot and (c) dry so the solution will not be diluted


Spray PURETi Clean & Fresh directly onto the surface. Do not spray onto the towel first.


Apply liberally. You want the entire surface to be damp but not dripping.


Limit your application area to about 3 feet by 3 feet – before continuing with other sections. Don't let the product dry on the surface before you get a chance to wipe it.


Wipe the surface area using gentle pressure to "polish" until the surface is dry and streak free. The goal is to apply PURETi to the surface, not wipe it off.


For best results, use a clean, microfiber towel (with most orders we send a special PURETi towel). Replace the towel with a new one when saturated or dirty.


Inspect the surface from multiple angles to make sure it is clean. Since you wont need to clean for a long time after, important make sure it looks good from the beginning.